5 Easy and healthy recipes for beginner cooks
These all involve more assembling than cooking
I was a pretty bad cook for years. I've melted a spatula, I've cooked a chicken for two hours only to find it's still raw, and I've flambéd stuff. By accident of course.
Well, you know what they say about failure. It is the opportunity to begin again, this time more intelligently.
So. I turned to some great recipes online to help me, and specifically recipes that involve more assembling than they do cooking, and they're fairly healthy too! Let me show you: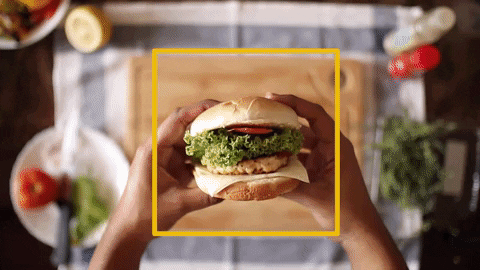 1) Tacos
I am basing these tacos off a recipe I found on Gimme Delicious, and it's a really simple one. Check the link for the full recipe!
My version of these tacos are a little bit different because I don't have all the ingredients listed, so I just use:
Wraps (instead of corn tortillas)
Chicken thighs
Seasoning mix (I used a random but delicious bottle of 'Assorted Ground Spices')
Cabbage
Onions
Tomatoes
Coriander
The steps are simple.
Season and pan fry the chicken

Chop the vegetables

Assemble and serve with coriander as a garnish and use fresh lime as the dressing. And since I'm using flour tortillas instead of the corn ones, it's easy to fold it into a wrap if you want to eat it that way 🙂

I love this recipe cause it's so healthy tasting. I love fried chicken, and a bit of acidic lime is a great way to add to the flavour.
2) Salad Bowl
This recipe is also based off one I found on Gimme Delicious, check it out here. I couldn't get all the ingredients either, so I substituted prawns with fish, and quinoa with $2 instant couscous.
Ingredients
Your fave kind of lettuce
Half an avocado
Couscous/quinoa/rice
Prawns, or any type of white fish (I used pangasius cause it was the most budget-friendly)
Onions/tomatoes/coriander for a side salsa (and this is totally up to you. I used just red onions)
Lime for the dressing
Prep your veggies, like lettuce and avocados

Cook some couscous. I'm using the instant kind so I just need to pour hot water in to cook it.

Season your fish/prawns then pan fry. I used dill, salt and pepper. Dill is great with seafood in general.

 Assemble everything! I usually put the fish on top of the couscous so it absorbs all those flavourful juices. I like to top it off with lime and coriander before eating.

3) Burger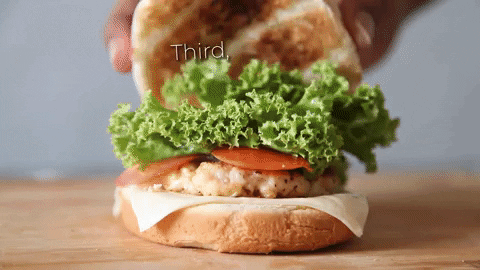 This looks difficult, but the only tricky part is making the patty – that takes some practice.
My patty tasted delicious because I used this recipe from All Recipes. However, it was kind of on the tiny side (whoops). Need to work on that.
Ingredients
Minced chicken
One egg
Breadcrumbs
Burger buns
Cheese, tomatoes, lettuce, onions – Anything you'd like for the filling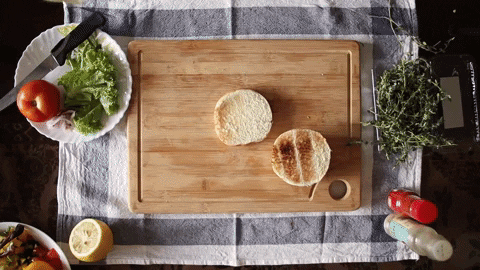 Mix the minced meat with egg and bread crumbs. The egg helps you hold the patty together and the breadcrumbs are an optional ingredient to bump up the texture.

I usually eyeball the amount of egg and breadcrumbs. I add enough till it's easy to mould and shape. Mine was way too small, next time I'd try to get the patty as big as my palm.

Cook the patty, then assemble the burger. Bonus: You can toast your bread to get it crisp, and place the cheese between the hot bread and meat to get it to melt.

Oddly, I never saw the need to add sauce. It tasted good as it was. But I think mayo would go great with this if you really wanted some.
4) Lettuce Wrap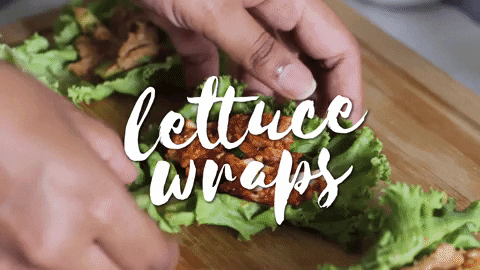 These are really just healthier versions of tuna sandwiches haha.
Ingredients
Lettuce (I like using coral lettuce for these wraps)
Canned tuna (I usually get the tuna mayo, though you can get tuna flakes in oil if you want it healthier)
Toppings: boiled egg, avocados, spring onions, tomatoes, bell peppers – It's up to you!
Chop your ingredients

Mix your ingredients into the tuna. Some combinations I like are:
Egg + spring onions
Bell peppers and tomatoes
Avocado alone

Assemble!

Squeeze lemon on the wraps for a bit of acidity and freshness

5) Lemon thyme chicken
I got this recipe from The Spruce Eats. The thing I did differently was that I used juicy boneless chicken thighs with skin, instead of dry chicken breasts. That makes all the difference.
Ingredients
Chicken thighs
Lemon
Fresh thyme (they sell them for $1.50 per pack at Giant)
Garlic cloves
Seasoning: Salt, pepper, chilli powder
Potatoes/peas/carrots/broccoli (any vegetables you'd like to boil for the sides)
Season the chicken with plenty of lemon juice, thyme, your seasonings, and throw in some crushed garlic

Put all that in a ziplock bag and marinate in the fridge for a couple of hours (at most overnight). The longer, the more tender and flavourful.

When it's marinated, take it out and pat it dry. The drier, the more crispy the skin will be.

Pan fry it or roast it. I like pan frying cause it means it's more crisp. If you roast it, it will be a lot juicier.

Now serve it!

The beauty of this recipe is that the lemon and thyme are such a classic and delicious combination, you really don't need to add other herbs to make this better.
I hope this post was useful! I used to think cooking nice food for me was a matter of luck, maybe it'd turn out good, maybe it wouldn't. And now I realise that even if I'm not good at cooking, there are ways to make the most of what skills I have.
If you want more recipes, you can check out these great sites I mentioned earlier: